Mobile fall detection device with SOS button and phone function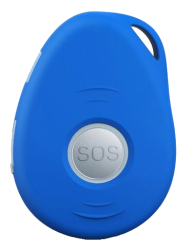 The fall detector
Fall detector with automatic emergency call function
Phone features, integrated mini mobile phone
Exact location on Google Map
Location-independent, also works in the forest
Voice monitoring, listening function
Large emergency button
Small, compact, long battery life
Who will help you when you are alone?
There are numerous situations, in which we are dependent on others' help,
especially those of us who live alone or spend a long time alone during the day.

Living without fear
The fall detection system gives seniors and other people, who are sometimes in need of help the feeling of independence and security.
Help is on the way with just one push of a button on the fall detector. It is also possible to dial automatically in case of an accident or a fall. No matter whether you are at home or taking a walk in the forest, your friends and relatives are just a push of a button away. If the situation is really bad, like if you fall or pass out, the detector automatically dials your loved ones. In this case these people can immediately determine your exact location and make sure you get help.
For sports and single workstations
Each person with a long-term occupation out of range of other people can benefit from the fall detector. This affects people working in isolated areas, mountain bikers and horse riders. The fall detector is a very good addition to the safety vest, especially when horseback riding. The riding vest protects you from serious accidents and the detector ensures you'll get the help you need if you fall.
How the detector works
Always have the detector on you.
If you press the signal button, the detector will dial all the saved numbers until someone answers the emergency call and will send a text message to all the numbers at the same time.
If you fall and can't press the signal button, the fall detector sensor recognizes this as an emergency and automatically triggers the alert.
Once a person answers, you can speak normally with them, as by regular phone.
The GPS fall detector device is very easy to use - it can be used anywhere and has a long battery life.
It is small and portable and features an attractive design and a very pleasant soft surface.
The fall detector alerts the people of your choice automatically if you lose consciousness or have a particularly bad fall.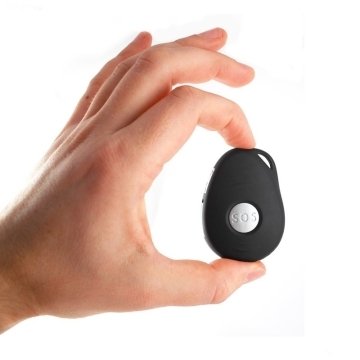 The fall detector
Small, handy, and solid with long battery life
Fall detection for children and the elderly
Voice Monitoring
Two-way voice communication
SOS Emergency Button
Locates you using GPS satellites and GSM positioning
GSM positioning when GPS satellite signal is not accessible (for example, on the subway, in a basement ...)
Responds with map link of the current position
Rechargeable 900mAh lithium battery. Standby time: 30 days
Micro-USB charger and cable
Fall detection
The fall detection device contains a 3D accelerometer sensor that measures movements in all directions. Once the device detects a fall it sends a text message to up to three phone numbers informing that there is an emergency and automatically dials the first saved number. If this call is not answered, it will automatically select the next number and so on. If nobody picks up, the detector repeats the process 5 minutes later until someone answers or the SOS button is pressed..
Once someone at one of the phone numbers picks up, you can speak normally over the detector, as over a regular mobile phone.
The fall detection can then be switched off.
The device detects a fall based on multiple criteria. It registers an impact using the dip angle after it has been in a horizontal position for 10 seconds.
The integrated fall detection has 9 different sensitivity levels that you can select to prevent false alarms.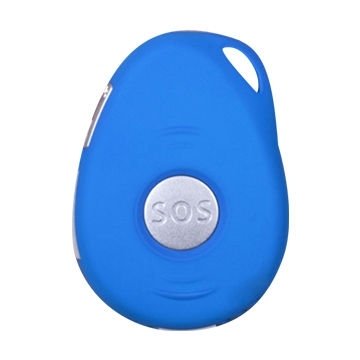 The alarm button
If the large alarm button is held down for 3 seconds, the device sends an SMS to all authorized phone numbers and starts to dial them one by one. If nobody picks up at the first telephone number, the next number is dialed automatically. If none of the saved telephone numbers can be reached, it starts redialing in five minutes until someone finally answers or the alarm button is pressed again.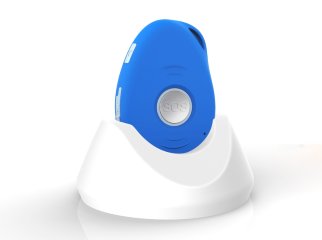 Making a regular call
To make a regular phone call, all you have to do is press the call button down for 3 seconds. Then there is an acoustic signal, the green LED on the device starts flashing quickly and the first phone number is dialed. To end the call, simply press the emergency call button.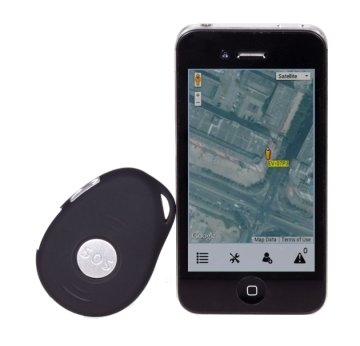 Determining the location
Sometimes it is not clear where you are exactly, like if you are taking a walk in the woods.
In this case, each of the authorized phone numbers can request the exact location from the fall detector.
The device then sends a text message with your exact coordinates and a link. When you click on the link, a map with an arrow pointing to your exact location will appear and all authorized persons can then see exactly where you are using a PC, tablet or Smartphone.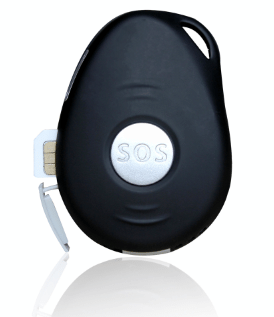 Uptime
The fall detector is charged using a USB cable and power supply unit that are delivered with it.
The device operates in various modes.
In standard mode all the functions of the device are available at all times and it needs to be recharged every 3 to 7 days depending on frequency of use.
This is the default mode.
The battery can last up to 20 days in power-saving mode. The unit is only active when it detects movement and can remain active for a specific time. Outside this time frame it cannot receive phone calls or requests for position finding.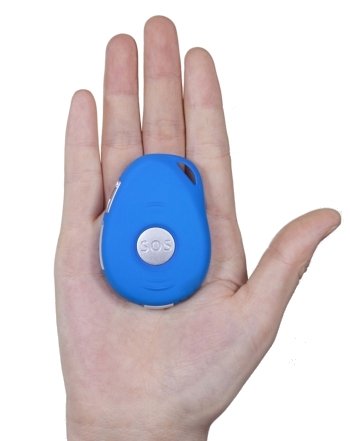 Technical parameters
| | |
| --- | --- |
| Size | 61 mm x 43 mm x 16 mm |
| Weight | 35g |
| GPS accuracy | <2.5m |
| Temperature range | -20°C bis +80°C |
| Charging voltage | 5V DC |
| Battery | Rechargeable 3.7V 900mAh |
| GSM frequency | 900/1800mhz/850/1900Mhz |
| GPS chip | U-blox 7 (supports A-GPS) |
| Color | Black, blue, green |
Independent and safe - anywhere, anytime
No matter where you are right now, you are never on your own with the fall detector!
With automatic emergency dialing in case of falls or similar accidents, the hands-free device for emergency calls and the monitoring function and exact location, you are well-protected in emergency situations.
In addition, you can make an emergency call manually via the call button and are thus not dependent on a mobile phone that can be big, bulky and generally inconvenient in emergency situations. Always have your little helper in your pocket or on a keychain and be protected and safe around the clock.

Get some quality of life back with this handy helper.
Why do we recommend this device?
There is a very simple reason. Recently there were two cases in our family, where we were trying to find a good technical solution. My grandma had a bad fall, could not get up and had spent 5 hours on the floor, knocking on it with her walker to try to get the neighbors' attention. Then my mother started getting arrhythmias that were sometimes so bad that she would go to the front door and open it until the attack passed. She did this so that someone could see her if she fainted.
We started looking for an optimal technical solution to these problems and after a long search found the fall detector, which was definitely a big help. This is why we decided to start offering this device to others. We hope that it will help you as much as it has us.
Order your fall detector now!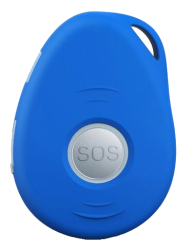 The following items will be delivered:
A fall detector in black, green or blue
Suitable USB charging cable
Micro-USB charger
Operating Manual
SIM cards are not included!